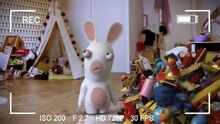 The Rabbids viral videos, also known as ''Rabbid shorts'' by many fans are short clips and trailers produced and animated by Ubisoft to either promote the Raving Rabbids video games or another product. They are usually 10 to 45 seconds long, but are sometimes extended. All of these videos usually feature one or several Rabbids performing random, humorous antics.
Video Game Ads
Edit
Rayman Raving Rabbids
Edit
Bunnies Very Useful Scientific Facts
Bunnies Can't Play Soccer
Bunnies Don't Do Vacuum Cleaning
Bunnies Don't Milk Cows
Rayman Raving Rabbids 2
Edit
Around the World
USA
Japan
Lepizig
Tour de France
Rayman Raving Rabbids TV Party
Edit
Spoofs/Parodies
Edit
Rabbids Go Home
Edit
Meet the Characters
Edit
Failed Attempts
Edit
Rabbids Go Home Cartoon Series
Edit
Episode 1: The Misision
Episode 2: Choosing the Crew
Raving Rabbids Travel in Time
Edit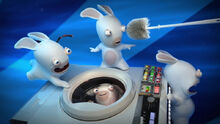 Rabbids: Alive and Kicking
Edit
Rabbids Daily Life Series
Edit
Coffee
Car Park
Hotel Room
Captain Rabbids (Parody of Captain America)
The Rabbids Abracadabwaaaah ( Parody of Harry Potter)
Rabbids Land
Edit
Rabbids Theme Park
Edit
The Rabbids Kitchen Championship 2012
Rabbids Preppers
Edit
Rabbids Preppers: Will they survive the end of the bwaaah?
Rabbids Preppers: The end of the world did not happen
Rabbids Can't/Won't
Edit
Rabbids Can't exercise
Rabbids Can't Play Golf
Rabbids Invasion Shorts
Edit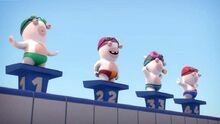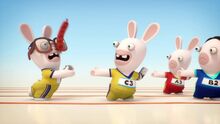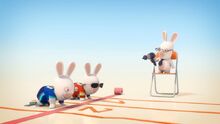 In late 2016, Ubisoft Motion Pictures produced 10 one-minute shorts featuring the Rabbids parodying the olympics.The shorts are only available in French audio but nonetheless can be viewed on Youtube in Ludo's official channel. The available shorts are:
L'athletisme explique aux Lapins Cretins
Le canoe kayak explique aux Lapins Cretins
L'escrime explique aux Lapins Cretins
Le plongeon explique aux Lapins Cretins
Le judo explique aux Lapins Cretins
La natation expliquee aux Lapins Cretins
La gym expliquee aux Lapins Cretins
Le volley-ball explique aux Lapins Cretins
L'equitation expliquee aux Lapins Cretins
Les lancers expliques aux Lapins Cretins
Product Ads
Edit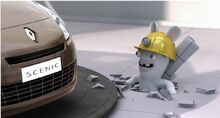 Grand Scenic Renault
Edit
UHU & Rabbids
Signal Lapins Cretins (Signal Rabbids)
AVEC Fruiss bwaaah du sirop!
Lutti Rabbids
Rabbids SodaStream
In an interview, Adrian Lacey from Ubisoft mentioned that the purpose of the viral videos is to show gamers the stupidity of the Rabbids.
Ad blocker interference detected!
Wikia is a free-to-use site that makes money from advertising. We have a modified experience for viewers using ad blockers

Wikia is not accessible if you've made further modifications. Remove the custom ad blocker rule(s) and the page will load as expected.