Hola!
Ubisoft anuncia hoy que el Season Pass de Rabbids Invasion: La Serie Interactiva, estará disponible desde el lanzamiento e incluirá 15 episodios adicionales repletos de los desafíos más locuelos que puedas imaginar.
El jugador tendrá la oportunidad de disputar una divertida competición con la familia y sus amigos mientras ven las escenas más divertidas de episodios como "SUPER-RABBID", "RABBID VAMPIRO", "RABBIDS CON PULGAS", "RABBID ZOMBI" o "SUEÑOS DE RABBIDS" entre otros.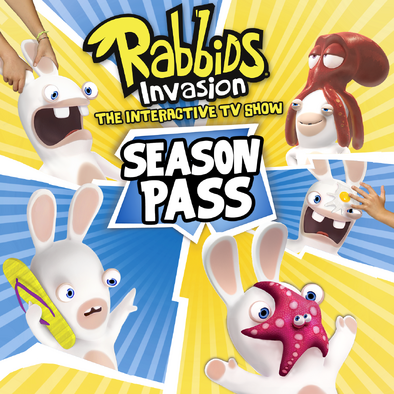 El Season Pass incluirá los 5 paquetes de contenido descargable, cada uno de los cuales incluye a su vez 3 nuevos episodios totalmente interactivos. Además de los 21 episodios originales, el juego completo contendrá por tanto un total de 36 episodios. Los 5 diferentes paquetes estarán disponibles en las siguientes fechas:
Paquete 1 – En el lanzamiento
Paquete 2 – Diciembre de 2014
Paquete 3 – Enero de 2015
Paquete 4 – Febrero de 2015
Paquete 5 – Marzo de 2015

La serie interactiva está siendo desarrollada por Ubisoft Barcelona con el apoyo de Ubisoft París. Con más de 14 millones de juegos vendidos, los Rabbids son uno de los personajes más queridos de Ubisoft, y sus estrafalarias aventuras llaman la atención de los niños y sus familias en todo el mundo.
Con Rabbids Invasion: La Serie Interactiva,la mayoría de los 78 episodios creados por ordenador de la serie original de televisión Rabbids Invasion, se adaptan para dar a la audiencia la oportunidad de unirse a los Rabbids, emulando algunas de sus travesuras más conocidas.
Gracias al control de movimiento integrado y al reconocimiento de voz de las consolas de última generación, Ubisoft es capaz de crear una innovadora mezcla de programas clásicos de la televisión y los elementos interactivos de los videojuegos. Rabbids Invasion: La Serie Interactiva estará disponible en todos los territorios EMEA el 20 de Noviembre, para las plataforma Xbox One, Xbox 360 y PlayStation®4.
Ad blocker interference detected!
Wikia is a free-to-use site that makes money from advertising. We have a modified experience for viewers using ad blockers

Wikia is not accessible if you've made further modifications. Remove the custom ad blocker rule(s) and the page will load as expected.