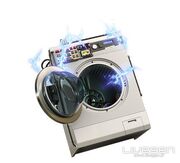 The
Time Washing Machine
is a washing machine used as a time machine in
Raving Rabbids Travel in Time
. It is used as the
rabbids
' main transport to different time periods. It was damaged in the first five trips the rabbid made.
Rabbids Invasion
Edit
In the TV series, Rabbids Invasion, the time washing machine appears in the episode Jurassic Rabbid. There, it is revealed that it was originally a regular washing machine, but was modified by an ancestor of the Rabbids. He used the washimg machine to return to his own timeline.It returns in Rabbid 2.0 (episode) where the present rabbids steal an important part of it,after the ancestor get's it back,he once again goes through time. However, it is unknown if these episodes are canon with the Rabbids games.(The episodes are most likely non canon since most stuff in the show has no influence from the games.)
Theme Park Attractions
Edit
The time washing machine takes a lead role on the theme park attraction La Machine a Voyager dans le temps which l opened on December 21, 2013 exclusively for France. Both the Rabbids and the machine can be interacted with via special 3D glasses.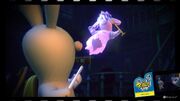 The time washing machine has appeared so far 5 times. It is mainly used in Raving rabbids Travel in Time but in Rabbids Alive and Kicking, in the minigame: Tenderfoot dance, where the player has to avoid projectiles launched by the rabbids, one of the falling objects is the time washing machine.
There is a screenshot for Rabbids Land in which a rabbid is catching one of the Ghosts with a vacuum cleaner (A la Ghostbusters), if you look closely, the lower right corner of the screenshot there is the time washing machine
The design of the time washing machine of the trailers is different from the one in the game.
It also appeared in Mario and rabbits kingdom battle to get to the merge headset creator
Ad blocker interference detected!
Wikia is a free-to-use site that makes money from advertising. We have a modified experience for viewers using ad blockers

Wikia is not accessible if you've made further modifications. Remove the custom ad blocker rule(s) and the page will load as expected.