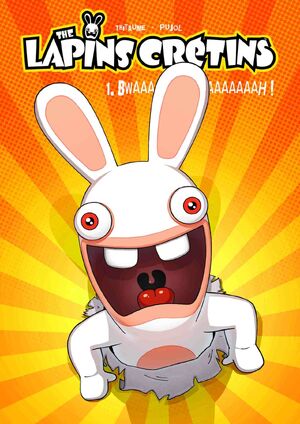 The Rabbids's first official comic book, under the name of
Bwaaaaaaaaah
, s  is, as the name suggests, the first official
Raving Rabbids
comic book. It is currently in stores in France, and the comics publisher Papercutz is currently in the process of releasing the comic the comic book in the United States. . However, it can be ordered online in the ubi-shop. All drawings and dialogues are wrtitten by the French author Thitaume-Pujol
. The comic book contains approximately 50 pages featuring various short comic strips featuring the titular
Rabbids
. There are also single-page gags and funny strips that often break the
fourth wall
and make references to popular culture.
List of Pop culture references
Edit
1. In page 4, it is revealed that the Rabbids were the ones who raised Marlyn Monrore's skirt under the vent.
2. In page 15, Clark the superbunny returns, he is cearly a parody of Clark Kent's secret identity of super man. Clark also appears in page 32,  and page 44.
3. In page 28, a Rabbid dressed as James Bond parodies the classic opening sequence featuring the gunbarrel.
4.In Page 32, Clark the superbunny is about to crash with the Oceanic Flight 815 from the ABC television show LOST.
5.  In page  36, Rabbids parody Where's Waldo.
6. In page 43,  a Rabbid is dressed as Sherlock Holmes.
7. In page 47, a portrait of a Rabbid dressed as Justin Bieber can be seen hanging on a wall.
In page 43, there is a picture of Rayman lying on a top shelf in the living room.
Comics publisher Papercutz will release the book on the United States on October 1, 2014