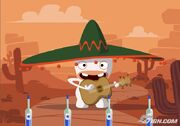 Rayman Raving Rabbids: TV Party (Or some fandom nickname it as "Rayman Raving Rabbids 3") is the 3rd installment in the
rabbids series
. It was released on November 18, 2008 in North American, November 13, 2008 in Europe, November 14, 2008 Australia, January 22, 2009 in Japan, and July 17, 2009 in South Korea. It is the first game to feature Wii balance board compatibility.
Rayman is running away from eight rabbids (possibly because they found out he wasn't a rabbid in Rayman Raving Rabbids 2). Rayman seeks refuge on a farmhouse but the rabbids are struck by lightning and are sucked into Rayman's TV set, turned into cartoon rabbids, they decide to invade each channel. Rayman is forced to watch the rabbids' programming. The player must play several minigames which parody popular movies and TV shows such as Star Wars, Godzilla, Prison Break, etc... As the player progresses through the game, cutscenes are shown to narrate the game's story. Rayman is being annoyed by the rabbids' TV antics and keeps making small cracks on the TV. In the end, Rayman is trying to watch a football game, but the rabbids keep changing the channels, which causes Rayman to throw his shoe at the TV, breaking it, releasing the rabbids. The rabbids continue to chase Rayman, except for one of them, who stays in Rayman's house and gets a vacuumm cleaner stuck to his ears and is too idiotic to tell which a phone and which is an ice cream.
Characters
Edit
Rayman - The main protagonist (non-playable, playable in the DS version)
The Rabbids - The main antagonists (playable)
Chef Bunny - Appears in a commercial as a protagonist (playable)
Up to four players can play the game. In order to beat the game, you will have to beat minigames in each day of the week, which drives Rayman crazy and forces him to make cracks on the TV every day. If you manage to beat all of the minigames on Sunday, you will be able to play the bonus game: Megaclicker.
Groove On
Edit
Groove On is a music ''channel'' in which music games can be played. All of the songs are revised and carried out by the Rabbids.
Trash TV features other public TV - based minigames.
Strawberry Fields, New Jersey (Tractormania)
Fashion Victim (Tractormania)
Woodstock, South Dakota (Tractormania)
Cult Movies
Edit
Cult Movies features movie parody based minigames.
Macho TV 
Edit
Macho TV features minigames based on flight and vehicles and deadly risky stunts. It also includes dressing up a rabbid.
American Choppy (Harley Rabbidson)
Shake It TV
Edit
Shake It TV features music to dance to, and unlike Groove On, the songs are the original versions rather than 'rabbidized'. From the Trailers, there is a rabbidized Version Of ABC, but the game has the original version with a remix in it.
 Soul Bossa Nova
 Said
 Ripped Rabbid
RC: Raving Channel
Edit
Raving Channel features minigames based on home-decorating TV shows. It also includes cooking and lottery, and sometimes late night talk shows.
X-Tam Sports
Edit
X-Tam Sports features, as the name suggests, dangerous and ridiculous sports events.
No Brainer Channel
Edit
No brainer channel is a bonus channel that is unlocked after all minigames are completed in story mode. It contains the final minigame: Megaclicker
Commercials (Micro-games)
Edit
During certain minigames. A small yellow bubble will pop up and it will say ADVERT. During this, the player will have to quickly press the 1 button on the Wii remote. When it is pressed, a commercial parody featuring cartoon rabbids will appear and the player will have to quickly have to h=shake the Wii remote. If you manage to perform the action correctly. You will earn a bonus that will help you in the minigame you are currently playing. In the Trailers, the video end with the Dent-a-fist music (expect for teaser trailer).
1. Respect the Pouch (Capri-Sun)
2. Rayman Raving Rabbids 16
3. Carrot
4. Mega Flux
5. Salsa Especial
6. Rabbidburger XL
7. Coca-Lola
8. Tidal
9: Bu-Tucks
10: Phunkia
11: Dent-a-fist
12: Chokeflakes
13: Crunchier-Os
14: Stinkbann
15: Speedslim
16: Rabbid-Made Pizza
17: Harespray
This is the final Raving Rabbids game that Rayman appeared in.
Rayman's whereabouts are still unknown as he was never seen again in any future Raving Rabbid games but still appeared in his own series of games.
The game is nominated for the first game you can play with your butt.
In Rayman's house, all of the portraits and newspapers are actually pictures and screenshots from Rayman 2: The Great Escape.
When Rayman is watching the football game, the NFL logo says: BWA and has a picture of a rabbid.
The football game Rayman is watching was also seen in the footage the rabbids were watching at the beginning of Rayman Raving Rabbids 2.
A Launch party for the game was held in Apple Lounge in West Hollywood on December 9 2008. Famous celebrities attended it such as Kim Kardashian, Kourtney Kardashian, Holly Montag, Shenae Grimes, Shalim Ortiz, Gilles Marini, Lacey Schwimmer, Skyler Shaye, Robbie Jones, Vida Guerra, Brandon Michael Vayda, Alexa Wilkinson, De'Shawn Washington, America Olivo, Shalim Ortiz, Shane Sparks, Gunner Wright, Logan Browning,Natalia Guslistaya, Roman Rey Chavent, Gregory Michael and Angie Cole.
Some of the adverts in this game are parodies of real life adverts.
Unlike the DS version of Rayman Raving Rabbids 2, Rayman Raving Rabbids TV Party on DS doesn't have a lot of games like the Console version.