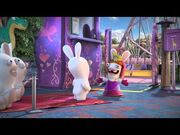 Rabbids theme park was a promotional viral video series released in early 2012 to promote Rabbids land for the Wii U. There are only two videos in total and consist of rabbids having some of their usual fun in an amusement park. The first video( Which was titled Try) was actually a shortened version/teaser of the E3 trailer that was released a few weeks later after the ubisoft press conference.
Rabbids theme park-Try
Rabbids theme park-wait
Ad blocker interference detected!
Wikia is a free-to-use site that makes money from advertising. We have a modified experience for viewers using ad blockers

Wikia is not accessible if you've made further modifications. Remove the custom ad blocker rule(s) and the page will load as expected.