Rabbids VR Ride is a virtual reality ride based on Rabbids developed by Ubisoft Paris. The ride as of now was only available in Ubisoft's E3 2015 conference and at Gamescom 2015. It is very unlikely that this project reaches a consumer release.
Features
Edit
The person will sit in a chair while wearing a form of special goggles and will be immersed in an interactive experience in which he/ she is sliding down a slope while avoiding obstacles and Rabbids performing various humorous antics in the background.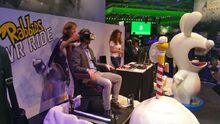 (its really good try it)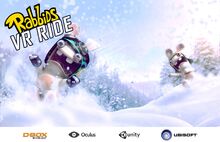 Ad blocker interference detected!
Wikia is a free-to-use site that makes money from advertising. We have a modified experience for viewers using ad blockers

Wikia is not accessible if you've made further modifications. Remove the custom ad blocker rule(s) and the page will load as expected.