Several Rabbids Toys produced over the years.
Rayman Raving Rabbids Figurines
Edit
A set of four Rabbid figurines were sold to promote the release Rayman Raving Rabbids. The set includes a smiling, blue-eyed Rabbid, as screaming red-eyed Rabbid, a Rabbid dressed as Sam Fisher from Splinter Cell and another one dressed as a character from Asassin's Creed.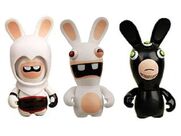 Rabbids Invade the World figurines
Edit
A series of 30 Rabbid figurines were sold in blind-bag packages across Europe. Each Rabbid is meant to represent a different geographical stereotype.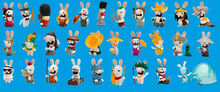 Rabbids Invade Sports Figurines
Edit
Another set of 30 Rabbid figurines exclusively sold in Europe . As the name implies, each figurine represents a different sport.
Rabbids Happy Meal Toys
Edit
During the year 2010, a series of five Rabbid toys were sold in French Mcdonald's Happy Meals for a limited time. Later in 2015, eight Rabbids toys were put in U.S Mcdonald's
Raving Rabbids Travel in Time Figurines
Edit
During the year 2010, a series of eight figurines were released to promote the release of Raving Rabbids: Travel in Time on the Wii. Each figurine has a Rabbid in an outfit representing a different time period. The collection includes a two cavemen Rabbids, a cowboy, a princess, a ninja, a Pharaoh, a Roman gladiator, a pirate and a viking.
Screaming Rabbid Plush
Edit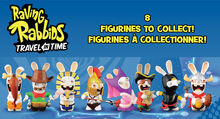 A large plush Rabbid with open mouth and red eyes. When its belly is pressed, it will emit a Rabbid scream.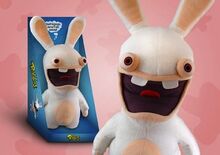 Rabbids Gamer Plush
Edit
A plush Rabbid with an over-sized head. It can be purchased at Gamestop and Comic book conventions.
Rabbids Invasion Toys
Edit
In 2013, Ubisoft made a partnership with Mcfarlane toys to fabricate and sell merchandise based on the TV show, Rabbids Invasion. These are the toys available:
Rabbids Plunger Blaster
Rabbids Mini figurines series 1
Rabbids Mini figurines series 2
Rabbids Blind Bags
Rabbids plushies
Ad blocker interference detected!
Wikia is a free-to-use site that makes money from advertising. We have a modified experience for viewers using ad blockers

Wikia is not accessible if you've made further modifications. Remove the custom ad blocker rule(s) and the page will load as expected.