Several Rabbids merchandise which has been produced and sold over the years.

Rabbids Charging Station
Edit
A charging station for two Wii remotes shaped like a screaming Rabbid. When it is turned on, the Rabbid's eyes will glow blue. Once the wii remotes are placed in the Rabbid's hands, however, its eyes will glow red.
Wii Remote Cover
Edit
A soft cover modeled after a Rabbid that can be used to protect your Wii Remote. It is sold in most Gamestops.

Wii Balance Board cover
Edit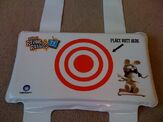 Plunger Gun
Edit
A Wii Remote Holder modeled after the Rabbids' Plunger Gun used in Rayman Raving Rabbids.
Ringtones
Edit
Ubisoft has released several ringtones with Rabbids sounds. These can be purchased from iTunes. The available ringtones are:
.Bwaaaaah!
.Rabbids Speaker
.Under the Shower
.Rabbids Flushed
. Happy Rabbids
Rabbids Laughing
.Scary Rabbids
Main article: Rabbids Toys
Main article: Rabbids (Comic Book Series)
Rabbids Invasion Books
Edit
In the year 2013, Ubisoft made a partnership with books publisher Simon and Schuster to release various children's books based on Rabbids Invasion
Case File # 1: First Contact
Case File # 2: New Developments
Case File # 3:The Accidental Accomplice
Case File # 4: Rabbids Go Viral
Case File # 5: Rabbids Get Access
Case File # 6: Rabbids Road Trip
Case File # 7: Red Carpet Rabbids
Rabbids Invade Halloween
Attack of the Zombie Rabbids
Deep Freeze
Chickens and the Eggs
Need for Speed
Rabbid of the Sea
Rabbids at the Museum
Here Come the Easter Rabbids
A Bwaaahmazing Sticker Collection
The Bwaaahsome Book of Rabbids
The Twelve Rabbids of Christmas
Laugh your Rabbids Off!
Cracking up with the Rabbids
Other Books
Edit
Magazines
Edit
A monthly magazine was given a way exclusively for members of the Rabbids Fan Club. Years later, a magazine entitled ''All About Rabbids'' began releasing montly in most countries accross Europe.
Rabbids Screaming Figurine and Illustrated Book
Edit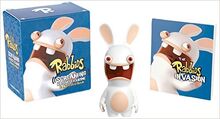 A small box containing a somewhat soft Rabbid figurine. It will emit a Rabbid scream when its belly is pressed. Also contained in the box is a booklet that explains the Rabbids' personalities and motivations.
Calendars
Edit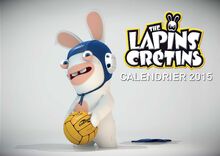 Several Calendars were sold in both France and in Germany featuring humorous illustrations featuring the Rabbids. Additionally, a 2015 calendar based on Rabbids Invasion was released years later.
The Rabbids ''Bwaaah!'' Box
Edit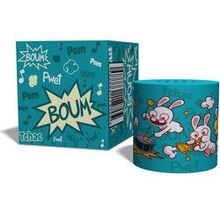 A small cilinder-esque item with speakers on the top, and various hand-drawn Rabbids on the side. Once it is pressed, it will emit a Rabbid scream.
Ad blocker interference detected!
Wikia is a free-to-use site that makes money from advertising. We have a modified experience for viewers using ad blockers

Wikia is not accessible if you've made further modifications. Remove the custom ad blocker rule(s) and the page will load as expected.