Get ready! The Rabbids Invasion theme plays at the beginning of the show. The intro shows the Rabbids re-uniting the plate tectonics and forming a Rabbid symbol across the Earth. On the farm so big. And the 2 words, now, see this in Rabbids Invasion of Nickelodeon, created by Nick France Televisions, Nick Jr. Radio.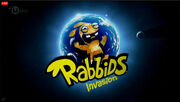 Give me a bah...
bah bah bah
Give me a lot of Heart
Bwaaaaaaaaaaah!
Ho Hee!
Bwaaaah!
Bwa, Bwo, Bwaaaah!
Bwa, bwa, bwa , bwaaaaah!
Ho hees!  So! Sees!
Bwaah, Bwaah,! Bwaah!
BWAAH BWAAAAAAAH!!!
Bwaah Bwaaah Bwaah bwaaah Bwaah!
TA- DAH!
Bwa-dah-ta-bah!
Ta-dah...
The version from the trailer is different from the one used in the intro
Realistic Picnic
The Rocket
The Cake
Phone Gear Problem
Winners
The Lion
The Static Bricks
The Tiger
The Goldfish
The Editor Condute
Funny Soda
Bu-tucks
Biolax vs Respect the Pouch
El Machiminga
Carrot
Harespray
Chokeflakes
Speed Slim
Characters Meet/Songs
Edit
Characters
Governe Bunny/Gordon/Crusher Bunny/Blaze Bunny/Billy Bunny/Flower Bunny/Dr Soul Bunny/Football Bunny/Ulamaka Bunny/Sullory Bunny/Buster Bunny/Explorer Bunny

Songs
Smoke On The Water
Edit
Teenager In Love
Edit
Satisfaction
Edit
Funky Town
Edit
Animals Groove
Edit
La La La List
Edit
Dr Soul`s Medical Life
Edit
Open Book/Born To Be Wild
Edit
Sports
MK News | Rabbid 1 | MK Music - Nick Records
Nick Records/MK Music
Music
Strong Bit Butter
Gravator
MK Music/Nick Records
Artist
Rabbids Invasion
CD
Strong Bit Butter
In strong is all rights
In bit no is worry.
In bitter get videos
To the ground no too.
Place in too
Not get all in and out
Explorer tilt in down
Space in the...MOON!!!
I`m a strong bit butter
Not in questin`
Strong bit butter
Not in questing
Strong bit butter not in questing
Strong bit butter
Not in questing
Explore no so worry
Don`t worry on the space
True in bit not is strong
Space in the moon
Child, child, child (6x)
Strong bit butter 
Not in questing
Strong bit butter
Not in questing
Not in questing
Strong bit butter
Not in questing
(ministraction in 3 ministries)
(guitar solo) Am Bm C#M Am Am Cm C#M Bm
(keyboard and drums)
(singing in wait in 45 minutes)
Strong bit butter
Not in questing
Strong...
(singing in 2 minutes)
(guitar sleeping and drums don`t sleep)
(keyboard and violine and 8-bits playing the track)
...in questing
Strong bit butter
Not - in - questing!
Strong bit butter
Not in queeeeestiiiiiiiiiiiiiiiiiiiiiiiiiiiiiiiiiiiiiiiiiiiiiiiiiiiiiiiiiing!!!
(singing waiting in 5000000 minutes and stop to sing and drums and guitar plays the solo)
More CDs? Subscribe to the channel! Bye bye!
Soul Big Arms Today Recipe Maker Game Available Now
Grab In
Far Out And Looooked!
Fail toooooooooooooooooooooooooooooooooooooooooooooooooooooooooooooooooooooooooooooooooooo!
Four Things Away Get In Blame Alive Sorts In Or Out Today
Universe Ten Numberedides
Number Attack!!!!!!!
Two Things/Away Dear Never?/Dust Big EVEEERRR!!!/Fun With Friends/Too Far/Englishes/Franceses/Chineses/Portugueses/Dears/Nothing/Action/on/on/on/on/on//oooooooooooon.../Teenagers/Tee-na-ah-ah-ah-ahgers in-ni-ni-nin lo-oh-ove-eh-eh-eeeh-----
Dear!!!
Get On!