The Rabbids Invasion theme plays at the beginning of the show. The intro shows the Rabbids re-uniting the plate tectonics and forming a Rabbid symbol across the Earth.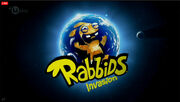 Give me a b
bah bah bah
Give me a lot of Heart
Bwaaaaaaaaaaah!
Ho Hee!
Bwaaaah!
Bwa, Bwo, Bwaaaah!
Bwa, bwa, bwo bwo , bwaaaaah!
Ho hees!  So! Sees!
Bwaah, Bwaah,! Bwaah!
BWAAH BWAAAAAAAH!!!
Bwaah Bwaaah Bwaah bwaaah Bwaah!
TA- DAH!
The version from the trailer is different from the one used in the intro
Ad blocker interference detected!
Wikia is a free-to-use site that makes money from advertising. We have a modified experience for viewers using ad blockers

Wikia is not accessible if you've made further modifications. Remove the custom ad blocker rule(s) and the page will load as expected.