Rabbids Big Bang is an  physics-based game coming to ios devices and tablets and a spinoff game of the Rabbids series, as well as Android devices. In this game, players will control the Rabbids along with their jetpacks to fling them across space, avoiding obstacles such as cows and the gravitational forces of other planets. Players will be able to customize both the Rabbid and the jetpack.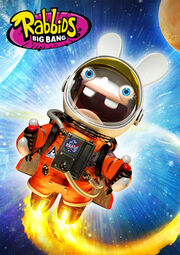 Characters
Edit
Rabbids-the main protagonists
Aliens-the controllers of the UFO's are possibly aliens.
Considering the Rabbids are in space and the announcement trailer shows they are on the moon, the game could possibly be a continuation of Rabbids Go Home,Where it could follow the rabbids that ended up on the moon at the end of the game