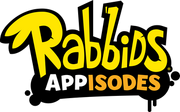 Rabbids Appisodes is an iPad application and a port of
Rabbids Invasion
:
The Interactive TV show.
It was released on October 14,2014 and is currently sold in the Australian App Store for the time being.
Omelet Party
Stop! No More!
Rabbid, Are You There?
Runway Rabbids
Ad blocker interference detected!
Wikia is a free-to-use site that makes money from advertising. We have a modified experience for viewers using ad blockers

Wikia is not accessible if you've made further modifications. Remove the custom ad blocker rule(s) and the page will load as expected.