Guitar zero is a mini game in Rabbids Alive and Kicking. It is a parody of Guitar Hero. The player will interact with an augmented reality guitar in order to play the music to attract the rabbids.
Various songs will be playable in this minigame, all of the songs are original.
Long Country Road
Picnic and Dynamite
Too much makeup
Tractor Love
The songs are not available for download with the rest of the Rabbids Alive and Kicking soundtrack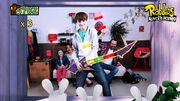 Ad blocker interference detected!
Wikia is a free-to-use site that makes money from advertising. We have a modified experience for viewers using ad blockers

Wikia is not accessible if you've made further modifications. Remove the custom ad blocker rule(s) and the page will load as expected.