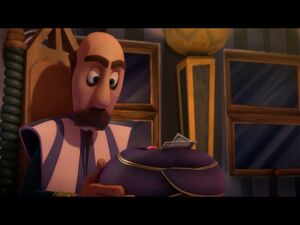 The False Psychic is a minor character in
Rabbids Invasion
 and the secondary antagonist of the episode
Rabbid, Are You There?
.
He keeps fooling his visitors into giving him money. At the end of the episode the alarm gets set off and he runs to his living rooms only to drop his hat full of money. He tries to grab it but fails and falls down the stairs on Pepé (the burgular). He then sees the glowing rabbid and mistakes him for being an actual spirit and faints.
He appears again in Rabbid Elevation where he when the Rabbids flerts around with Stacy in the elevator.
Name: Buck Jackson (fan name)
Voiced by: Steve Carell
Friends: Stacy
Enemies: Rabbids
Nicknames: False Psychic.
Weapons: none.
Quote: This guys watch too much TV.
Commanders: none
Fate: thinks a rabbid is a spirit and faints (Rabbid, Are You There?) joins the party (Rabbid Elevation)