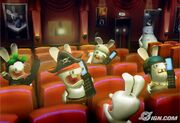 The game starts with a rabid talking on his cellphone and makes the player rabid yell and the big rabid tells that rabid to be quiet and the minigame begins.  

The rules are the player talks on the phone until the lights turn on and the big rabid comes in then type a text message to make a rabid yell and have a thing fall on it the same thing continues until time runs out.
Ad blocker interference detected!
Wikia is a free-to-use site that makes money from advertising. We have a modified experience for viewers using ad blockers

Wikia is not accessible if you've made further modifications. Remove the custom ad blocker rule(s) and the page will load as expected.