Bwaaaldo is a recurring character who so far has only made exclusive apperances in the Rabbids comic book series. He is a Rabbid who is dressed as Waldo from the popular ''Where's Waldo?'' books. Very much like Waldo, this Rabbid is always attempting to hide in public places, often choosing ridiculously conspicuous spots.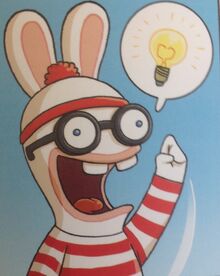 Bwaaldo has so far appeared in every volume of the Rabbids comics, with the exception of volume 7.
Ad blocker interference detected!
Wikia is a free-to-use site that makes money from advertising. We have a modified experience for viewers using ad blockers

Wikia is not accessible if you've made further modifications. Remove the custom ad blocker rule(s) and the page will load as expected.